10 Easy and Cute Christmas Nail Ideas 2021 🎄
Celebrate the holidays with your best nails on!
Nail Trends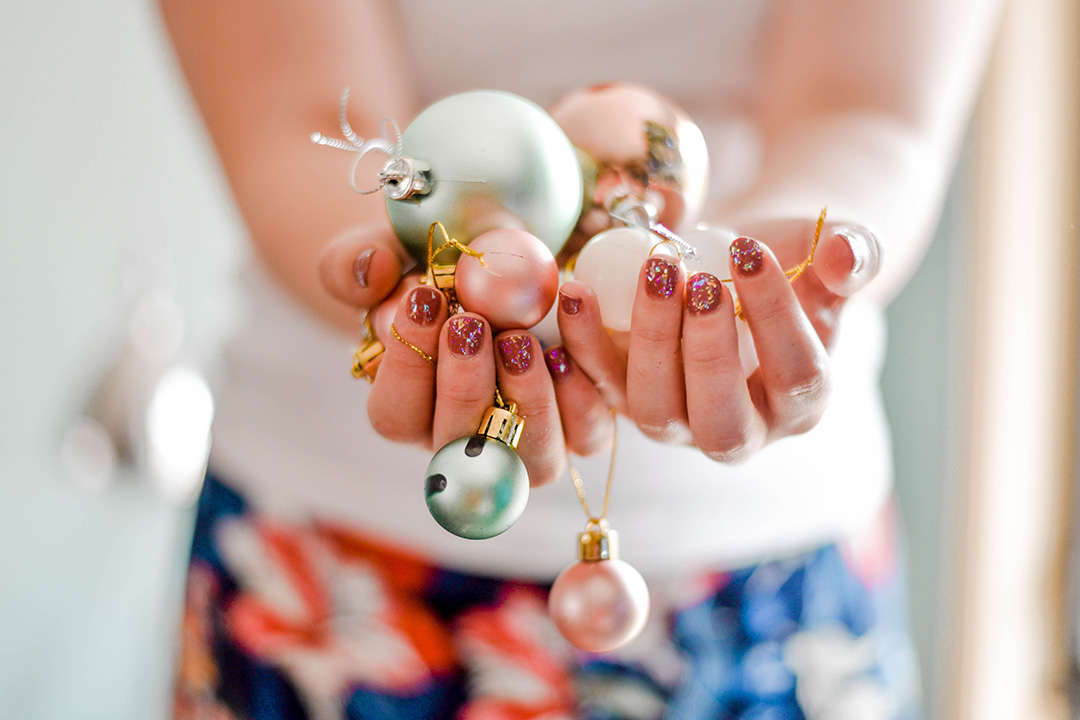 ---
Are you excited to celebrate the holiday season? After another eventful and long year, we certainly are!
Christmas is just around the corner, and we are here to help you show up to your holiday gatherings with the best ideas for cute and simple Christmas nails! Whether you have a love for some classy red and green Christmas nails, or some playful snowflake design nails, or even Christmas tree designs, we've got it all here for you curated from all across the Internet.
So let's not wait any longer and dive into these 10 great nail colors and designs for winter and Christmas 2021!
Part 1: ❄️ Best Snowflake Nails 2021 ❄️
White Snowflake Nails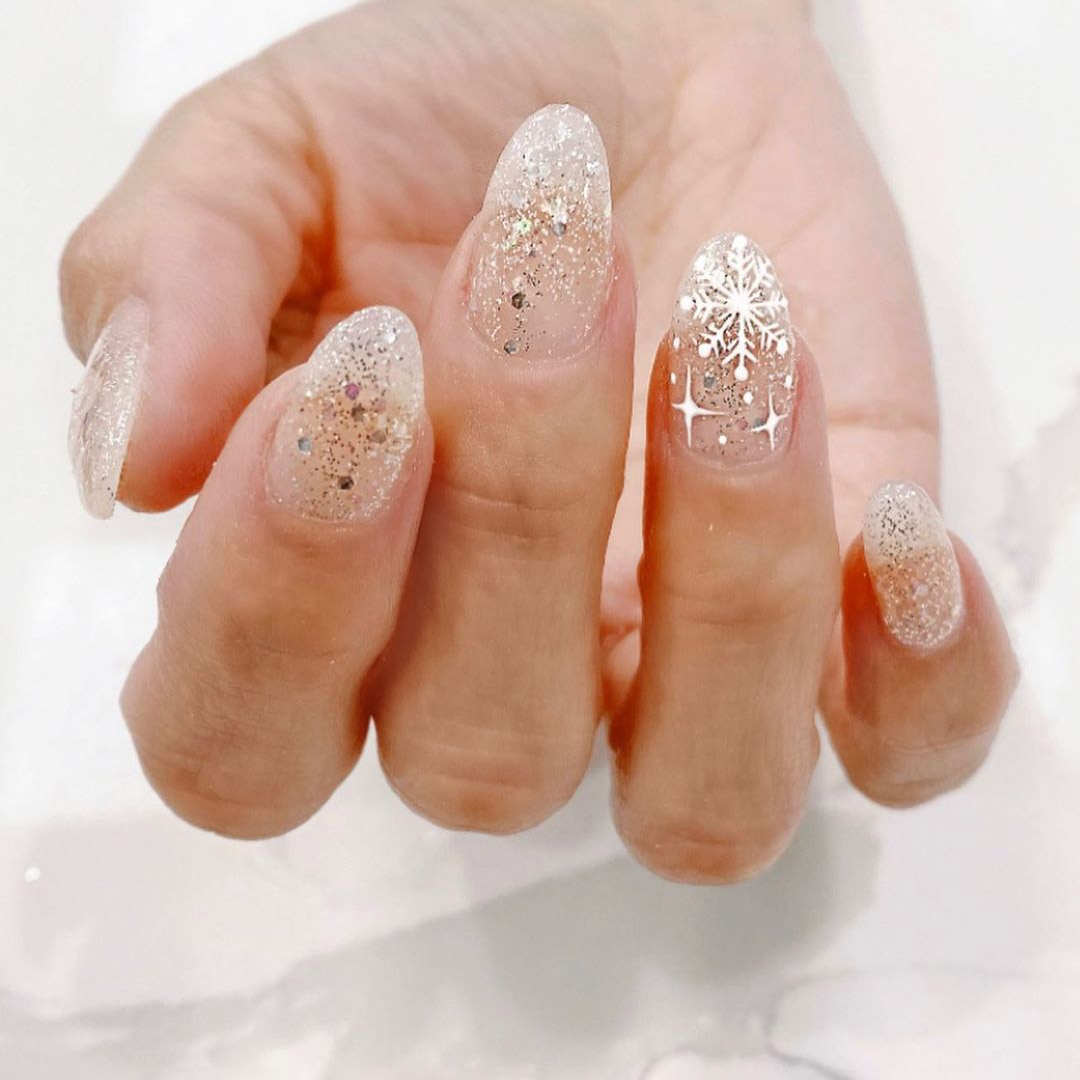 These Christmas snowflake nails have the perfect mix of gold glitter nail polish and silver dot polish. Enjoy the gorgeous accent on these cute snowflakes–the bright, unreal contrast is just perfect.
Red and Gold Snowflake Nails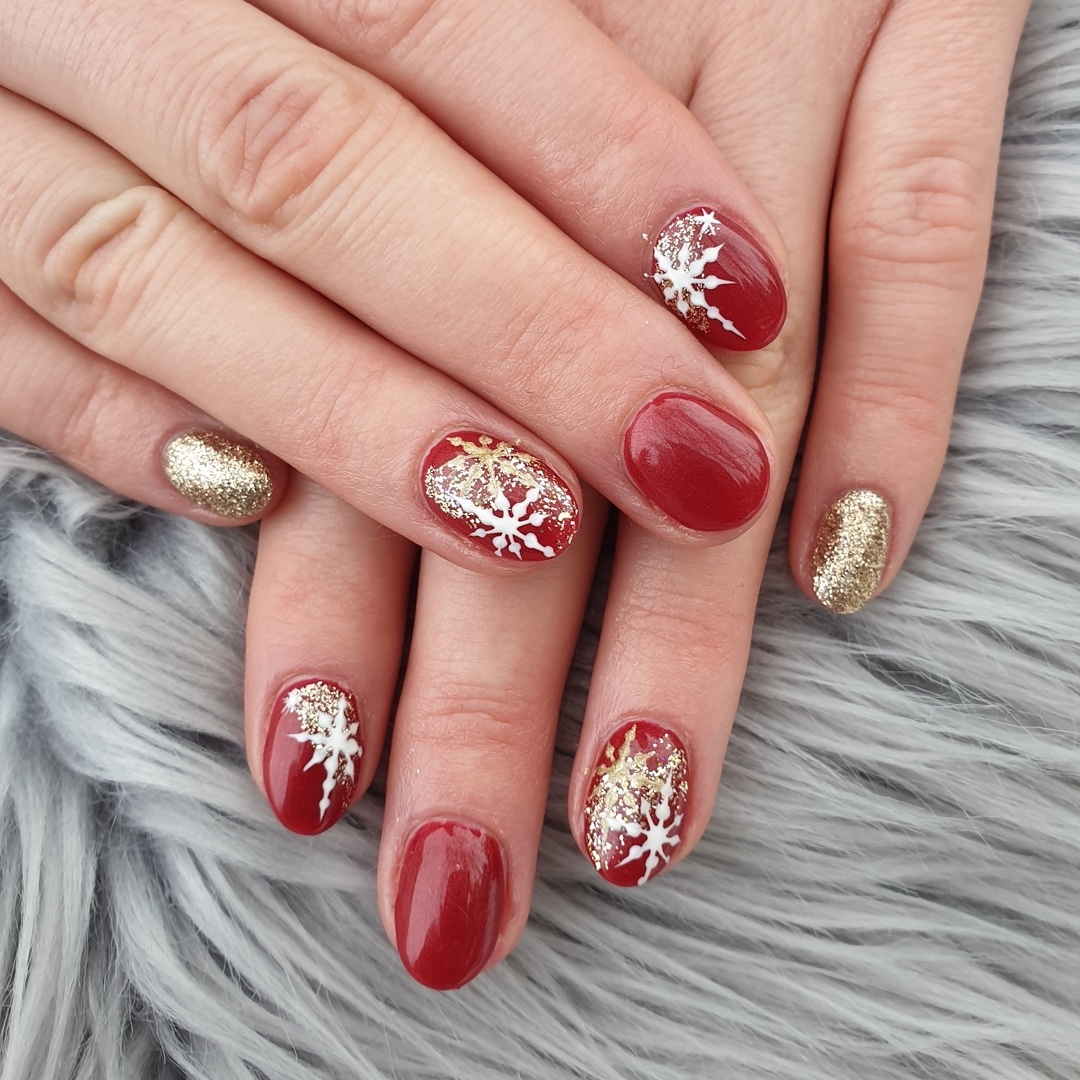 @defybeautysigtuna on Instagram
Accent nails can sometimes feel a little abrupt with the rest of your mani, but this combination of red and gold glitter polish go together so well. The itty-bitty snowflakes on top add that extra touch to make this a true work of art.
Easy Snowflake Nails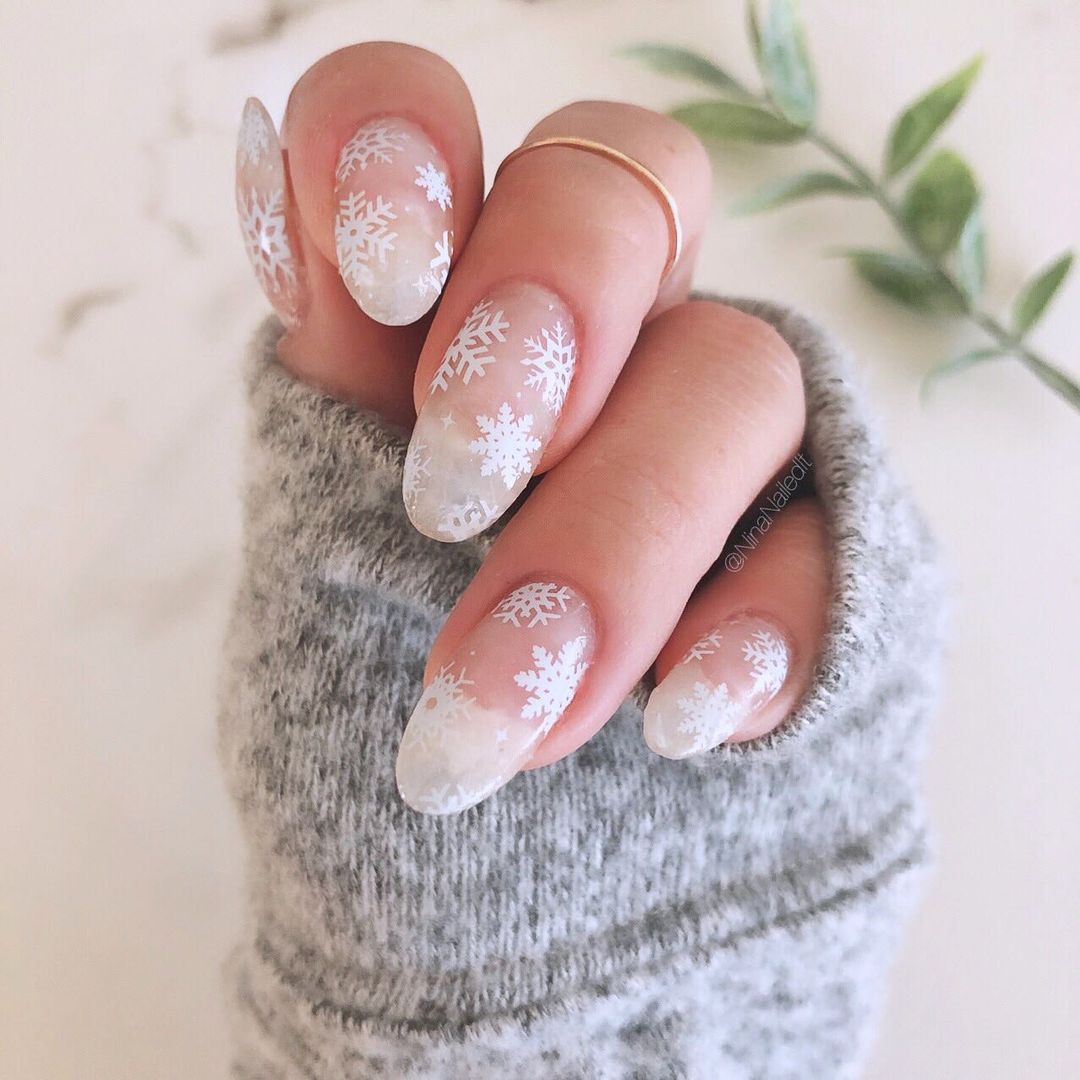 Elegance in simplicity–that's what this nail art is all about. The tiny stars, snowflakes, and dots all mesh together so well on the transparent background to bring everything to life. Go enjoy the snow and wintry beauty outside with these!
Part 2: 🎄 Best Christmas Tree Nails 2021 🎄
Polka Dots + Christmas Tree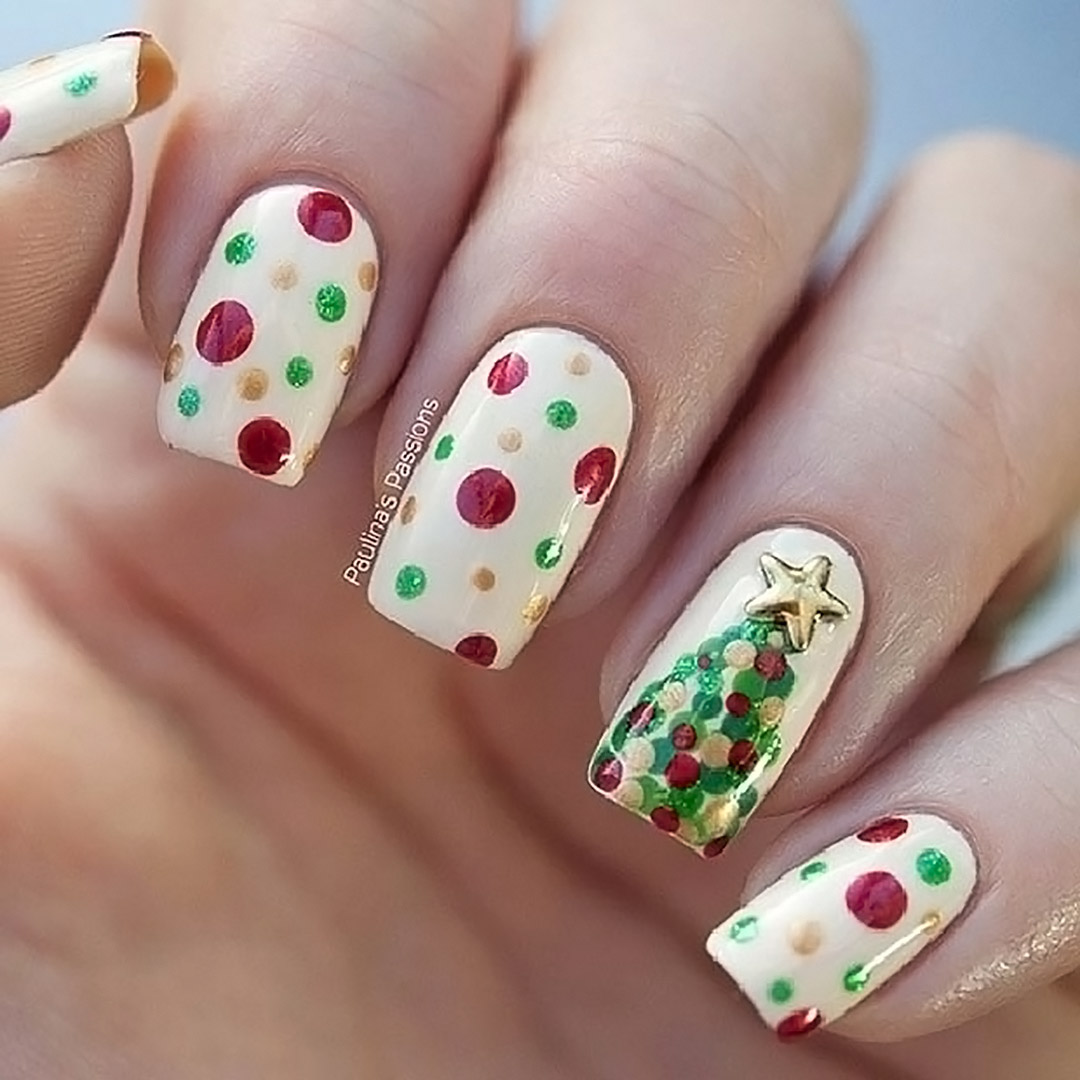 What else to go with a cute Christmas tree nail design on your nails for this winter than some simple, colorful polka dots? You've gotta try this easy Christmas nail design out to get yourself into the festive mood!
Simple Christmas Trees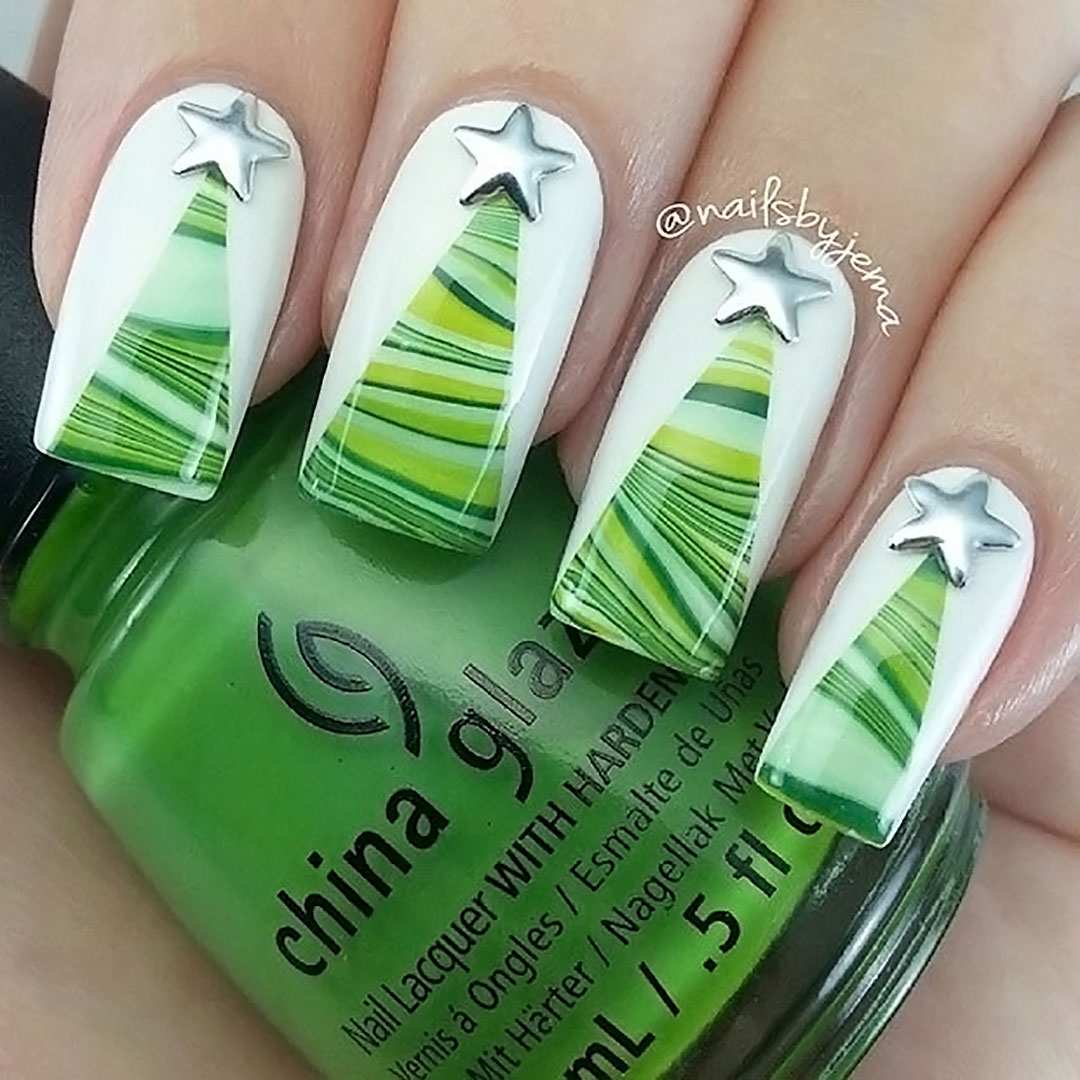 Wanna switch up your Christmas nail colors a bit? Then this Christmas tree design with just green and white nail colors is the one for you. You can definitely pull this one off even just at home!
Part 3: 🔴🟢 Best Red and Green Christmas Nails 2021 🟢🔴
Festive Red and Green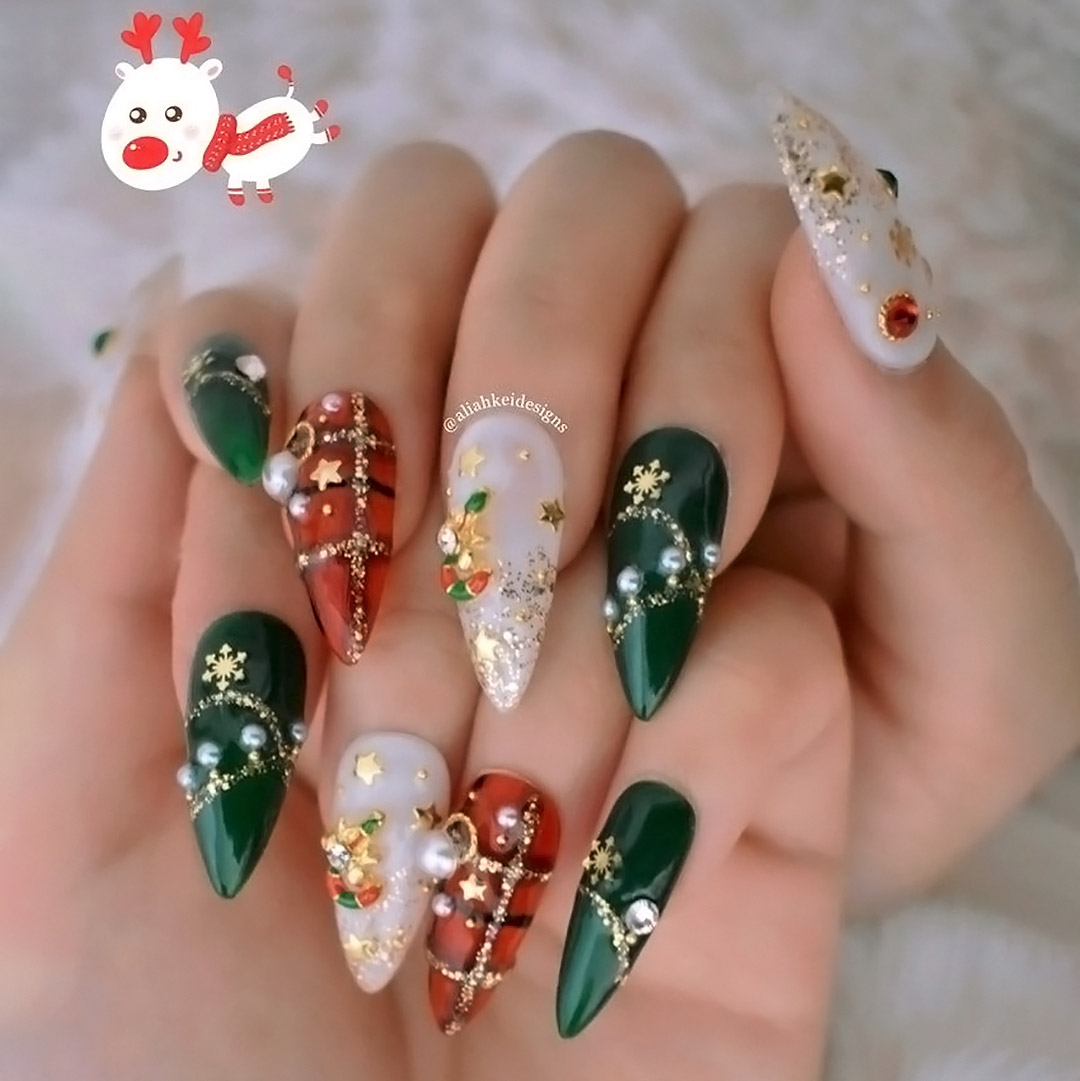 It's so hard to go wrong with the classic red and green nail colors for Christmas nails. Add in some golden glitters or decorations to top off your red and green nails to make it the ideal holiday season nails!
Gingerbread Man + Red and Green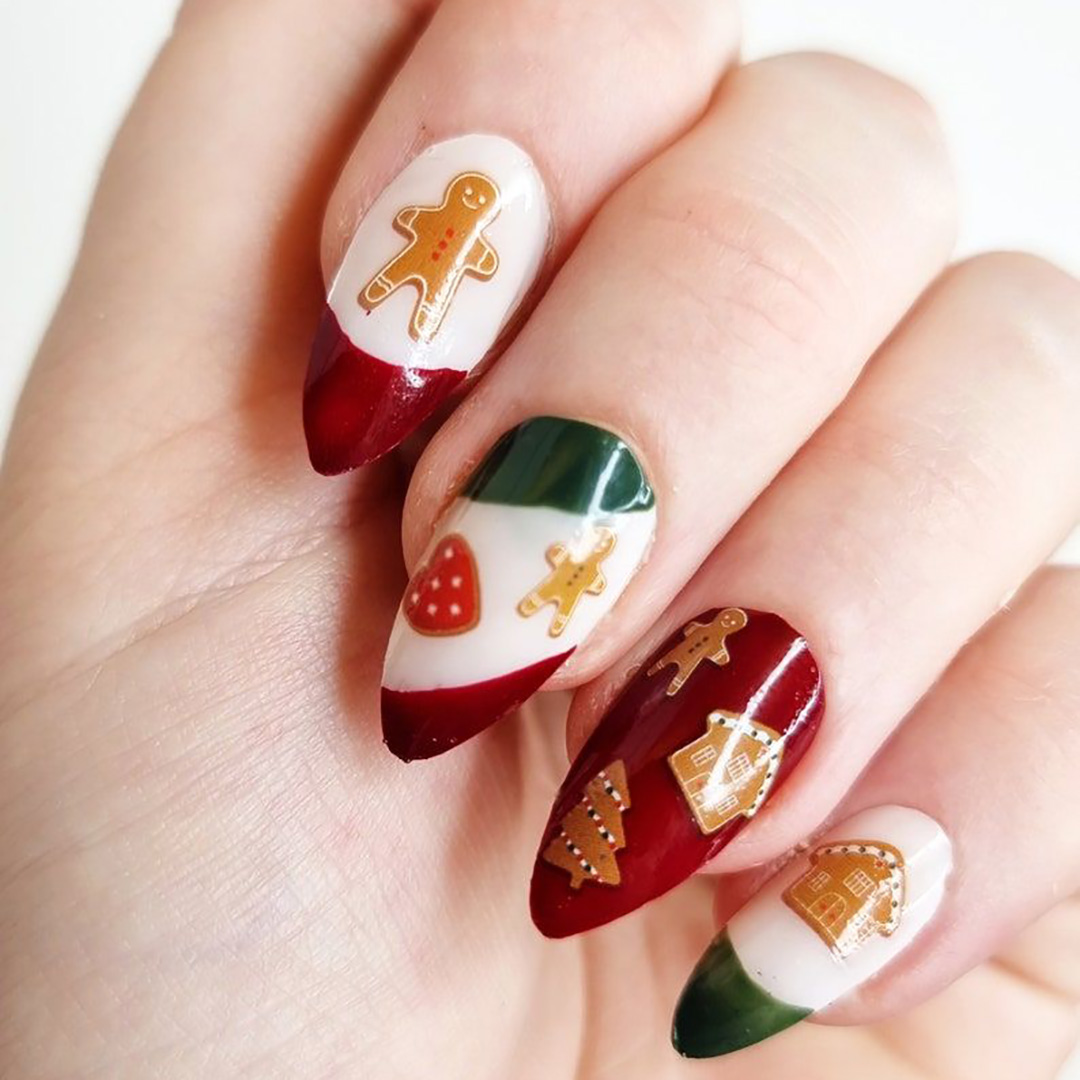 Why not build on the classic, timeless red and green pattern with some super cute Gingerbread man nail designs? A great holiday tradition makes for a beautifully designed nail art idea you can't miss out on for your Christmas nails 2021.
Part 4: 🎅 Other Honorable Mentions 🎅
Grinch Nail Design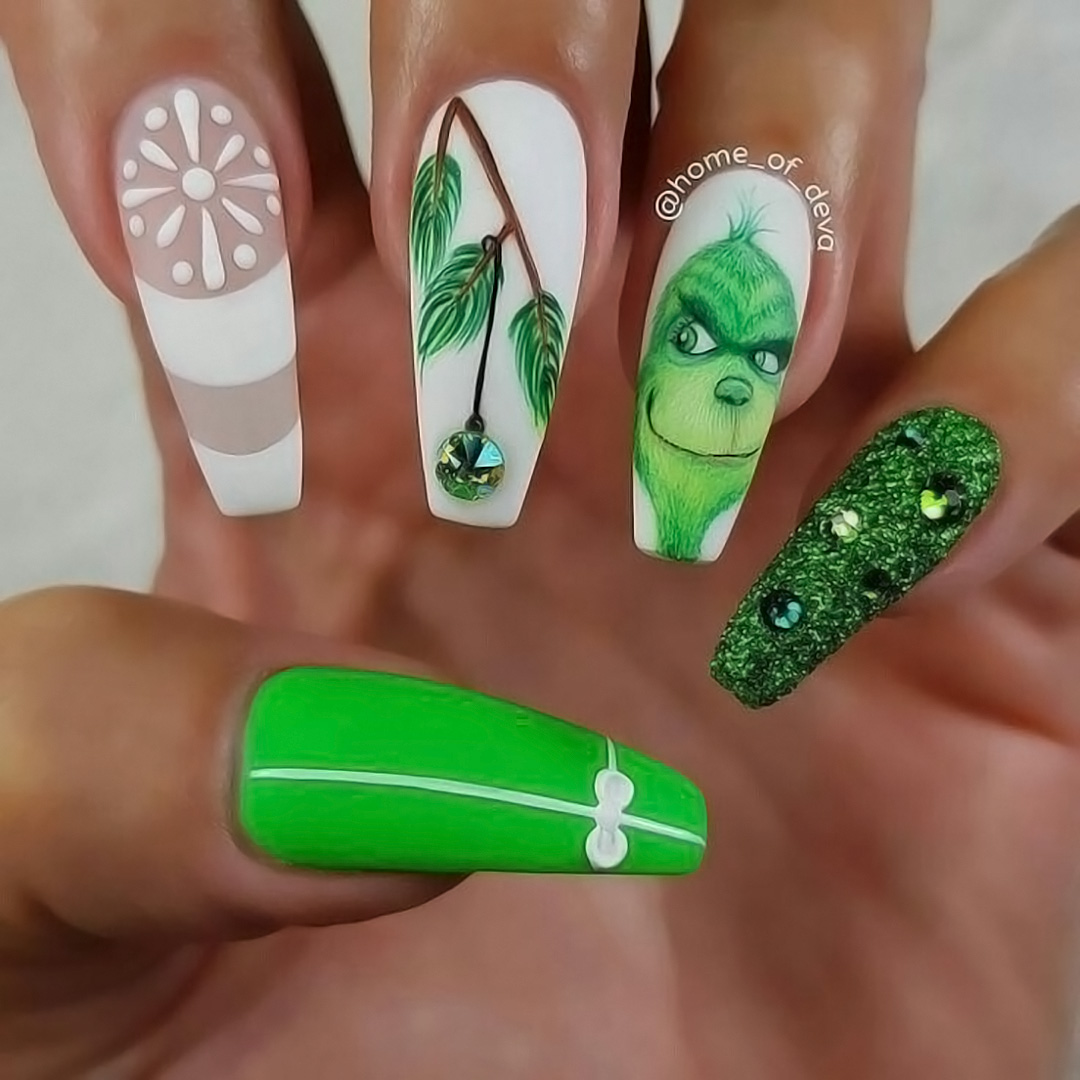 If being more mischievous and playful is your vibe for this holiday season, try out these simple Grinch nails! You will definitely be missing no points in the creativity and stylishness departments when showing off these nails.
It's Snowing Outside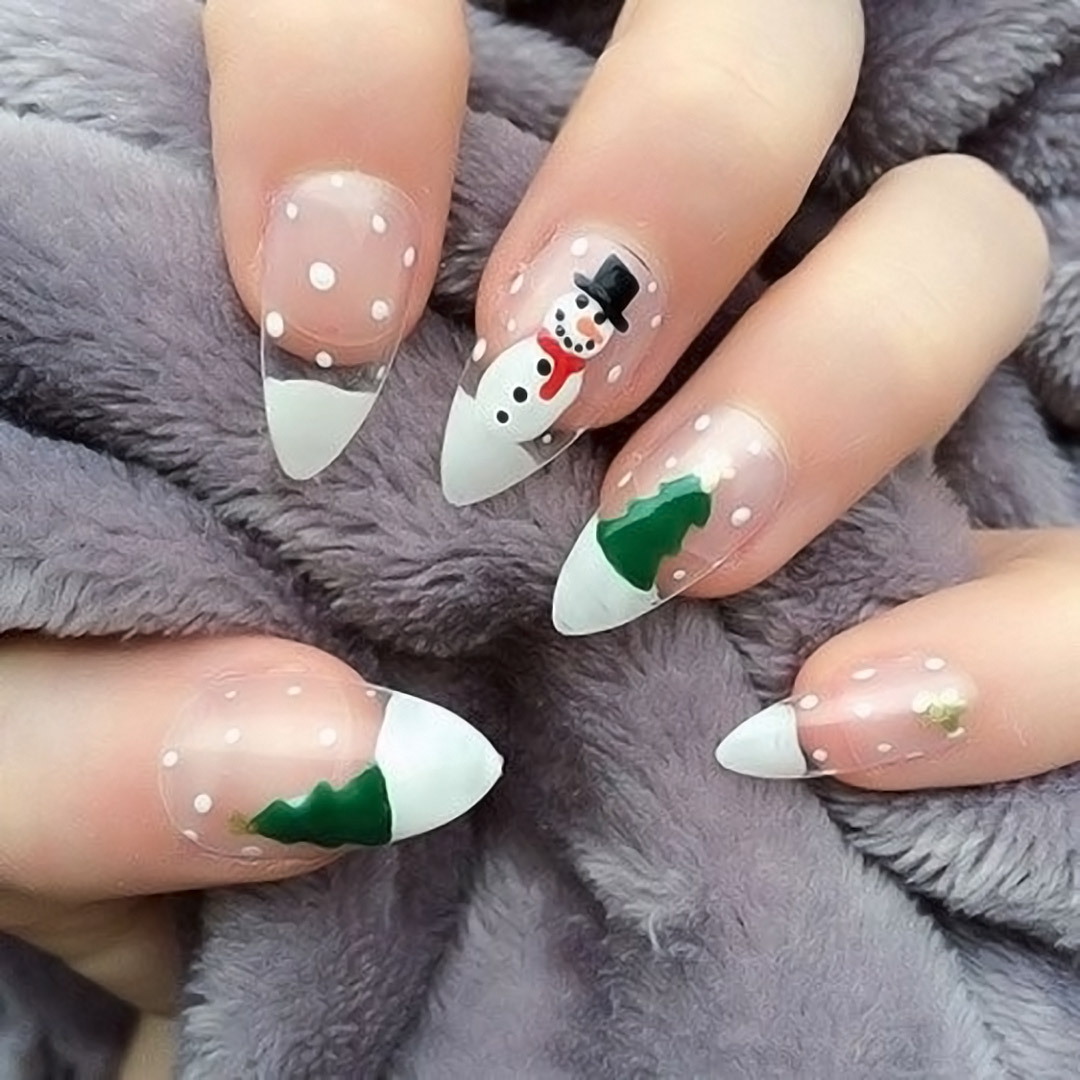 Many members of our team grew up loving the snow and building snowmen every winter. If you share this love for winter and Christmas, we know you will enjoy this simple and delicate snowman Christmas nail design!
🎁 Merry Christmas Everyone 🎁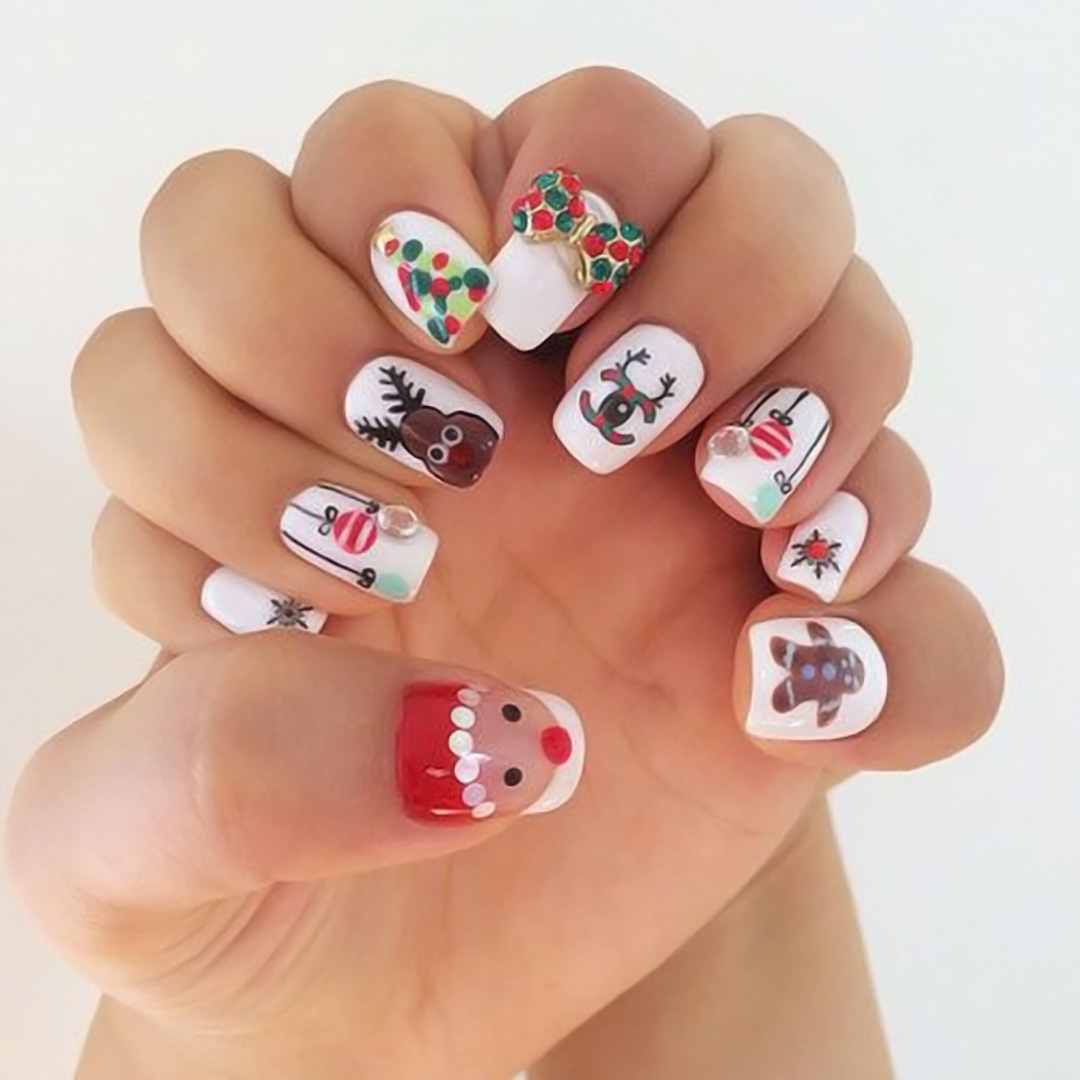 To round off our list, we wanted to bring you this Christmas nail design that is just so wholesome. Bring together all the best designs and arts for Christmas nails and show them off as you bring together all your loved ones. We hope you have a safe and wonderful holiday season.
---
If you enjoyed looking at these beautiful designs, don't forget to support the amazing nail techs behind the work by following them on Instagram. And if you're in the mood to see more amazing nail art, try out our Find Your Style feature to enjoy tailored nail art ideas.